Nassim Azarzar (@nazarzar), artist, develops a research around imagery, even popular imaginaries by exploring their different forms, occurrences and devices of representation in a Moroccan context. For several years, he has been developing an ongoing project called «Bonne route» dealing with decorative practices applied to trucks transporting goods between the port cities of Tangier, Casablanca and Agadir in particularand the Moroccan villages of the Atlas and the Rif.
Azarzar's aesthetic research revolves around decorative arts, painting, drawing, sculpture and experimental cinema.
Before joining QANAT (a collective of artists and researchers exploring water in its political and poetic dimensions) in 2019, Azarzar co-founded: Atelier Superplus (@atelier_superplus), a design studio operating between Paris, Bristol and Tangier in 2014; Think Tanger (@thinktanger), a platform dedicated to the exploration of the city of Tangier and its extensions at the urban and visual levels in 2016; and Atelier Kissaria (@ tanger.print.club) in 2017 focused on experimental printing practices. Born in 1989, lives and works between Paris and Rabat.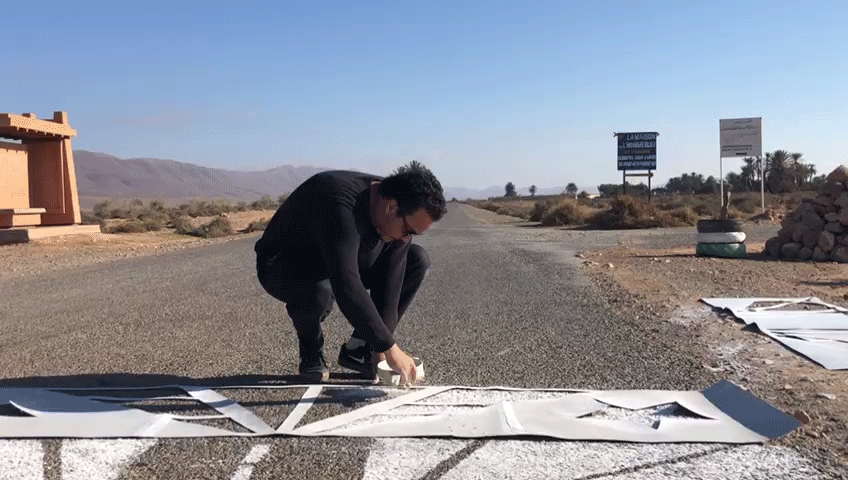 Nominations, awards and residencies:

2023 WARAQ (BEIRUT, LEBANON)
2023 PRO HELVETIA CAIRO (ZURICH, SWITZERLAND)
2023 DELFINA FONDATION (LONDON, ENGLAND)
2022 NAJM, LIEUX COMMUNS (MARSEILLE, FRANCE)
2021 L'APPARTEMENT 22 (RABAT, MOROCCO)
2021 FRENCH INSTITUTE (CASABLANCA, MOROCCO)
2020 ARAB FUND FOR ARTS AND CULTURE
2020 AFRICAN FUND FOR CULTURE
2019 HOUDOUD RESIDENCY (BERLIN & TETOUAN)
Selected exhibitions:

«La promesse de l'empreinte», Malhoun art space
Collective exhibition, Marrakech, Morocco

«Xyzt», LoftArt Gallery
Collective exhibition, Casablanca, Morocco

«Appartemenet 22 (2002-2023)», Lot 219
Collective exhibition, Fès, Morocco

«Pièces détachées», L'appartement 22
Solo exhibition, Rabat, Morocco

«A Door to the Sky (Or a Plea for Rain)», Documenta 15
Collective exhibition, Kassel, Germany

«Love... Marrakech this city taught me color», Palacio de Cadaval
Collective exhibition, Evora, Portugal

«À l'Épreuve du Tamis», 1:54 African art fair I Le 18
Collective exhibition, Marrakech, Morocco

«Serendipity», Villa Delaportes
Collective exhibition, Casablanca, Morocco

«États d'Urgences d'Instants Poétiques», Jardins d'essais botaniques
Collective exhibition, Rabat, Morocco

«The Whole World a Bauhaus», ZKM Institut
Collective exhibition, Stuttgart, Germany

«Il n'y a plus rien à voir», Kulte Contemporary Art Center
Solo exhibition, Rabat, Morocco

«Espace Urbain Corps Social», French Institut gallery
Collective exhibition, Tangier, Morocco

«Worlds within worlds», EBC Contemporary Art
Collective exhibition, Bristol, England